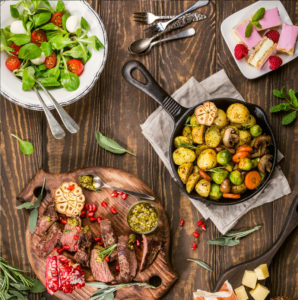 We believe that everyone has a right to eat healthy and delicious meals every night of the week. With our traditional personal chef service, we will come out once or twice per week and prepare multiple meals according to your dietary goals and guidelines.  Our service allows busy families and individuals to remove the burden of making meals, while keeping them healthy and affordable.
Chef Holdings is committed to customizing meals to each client's needs. We will first conduct a consultation to discuss what exactly you are looking for. This includes:
Specific Diet Types (Low-Carb, Vegetarian, Traditional, Gluten-Free, Dairy-Free, Paleo etc.)
Food Allergens and Restrictions
Taste Preferences
Number of Meals and Servings Each Week
Shopping Preferences (Farmers' Markets, Organic, Specific Stores)
After the consultation, we will create a menu based on your needs and goals. Upon approving the menu, we will then travel to your home to prepare the meals. On the day of service, we will typically shop for ingredients first and then arrive to prepare 2-4 meals with multiple servings (weekends are also available). The first meal can be served to your family, while the other meals will be stored away for later in the week.
Chef Holdings strives to provide affordable personal chef service. For our meal preparation, we charge an hourly rate of $40 per hour, plus the cost of ingredients.
Prices vary based on how many meals and servings we prepare, but the average family spends $150 to $200 per week plus ingredients.
We want everyone to be able to enjoy our service, so some clients may choose to have us come out on a bi-weekly or a monthly basis and do batch cooking. This allows for the cost to be as little as $50 to $100 per week, plus ingredients.
We suggest emailing us at chefs@chefholdings.com to discuss your exact situation! Our main priority is making your meals function smoothly so you can get back to spending time and energy on more important things in life!
Please see our FAQ page for frequently asked questions, addressing all of the details!